The Setting For Twilights Failing
"What are we? The Damned childer of Caine? The grotesque lords of humanity? The pitiful wretches of eternal hell? We are vampires, and that is enough. I am vampire, and that is far more than enough. I am that which must be feared, worshipped and adored. The world is mine — now and forever."

---

The City of Angels - home of the anarchs, Sabbat, and devils of all kinds. Since the anarch revolt of the 1940's, Los Angeles has been a city in constant upheaval and the chaos has only been increasing. Now, as the Camarilla and Sabbat prepare their forces, those in the bastion of vampiric freedom discover they are not as free as they thought…

Los Angeles is the largest city in the state of California and the second-largest in the United States. Often abbreviated as L.A., it is rated an alpha world city, having an estimated population of 3.8 million and spanning over 469.1 square miles (1,214.9 square kilometers) in Southern California. Additionally, the Greater Los Angeles metropolitan area is home to nearly 17,776,000 people who hail from all over the globe and speak more than a hundred different languages.

The city is divided into many neighborhoods, many of which were towns that were annexed by the growing city. There are also several independent cities in and around Los Angeles, but they are popularly grouped with the city of Los Angeles, either due to being completely engulfed as enclaves by Los Angeles, or lying within its immediate vicinity.

Related Links:
Sabbat - Camarilla - Anarch - The Characters of TF - RP Logs
---
Grid Map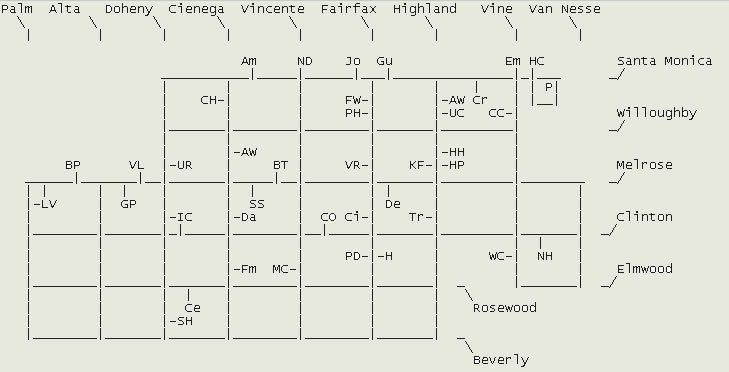 Am - Ambience de Ciel
ND - Next Door's Living Room
Jo - Joe's Pool Hall
Gu - The Gulag
Cr - Club Crank
Em - The Empress
HC - Hotel California
P - Park
CH - Club Hades
FW - The Four Winds: Apartments
AW - Abandoned Warehouse
PH - Pleasant Hills Psychiatric
UC - Used Car Sales & Rental
CC - Club Contempt
UR - The Unheardof Restaurant
VR - Venture Real Estate
HH - Hungry Howie's Pizza
SS - The Stars Shine Bright
BT - Bhodi Tree
KF - Kensington Fields: Apartments
HP - Highland Park
LV - Le Vie En Blanche
BP - Be Pretty Boutique
GP - The Golden Phoenix
VL - Venenata Luna
IC - West Hollywood Islamic Center
Da - The Dark Side
CO - Community Outreach
Ci - Civic Center
Tr - Ye Olde Triangle
WC - Wiltshire Country Club
NH - New Hope Ministry
Fm - Faerie Moon
Ce - Cemetary
MC - Millenium Comics
PD - LA Police Dept
H - Hospital
SH - Sacred Heart: Catholic Church
Neighbourhoods
Highland Park
One of the oldest settled areas of Los Angeles, Highland Park is also one of the most scenic due to its architecture and location between the Mt. Washington hills, the San Rafael hills and the Monterey Hills, Los Angeles, California. Highland Park has largely been spared the dramatic changes that Silver Lake, Echo Park and Eagle Rock have experienced. The district's proximity to those neighborhoods (coupled with low rents), have made it increasingly popular among hipsters. Local dive bars have become fashionable nightclubs, with doormen and chi-chi velvet ropes.
From the late 1950s until around the early 80s, Highland Park and neighboring Eagle Rock were known as a haven for Hot Rod builders. While most of the original hot rod shops have now disappeared, McGibbons Auto Body still exists at 5251 York Blvd. McGibbons shop was the creator of many of the hot rodder and low-rider graphics and paints from the 1970s onward.
Melrose District
Melrose District is a commercial and residential community in the Hollywood district of the city.
The term "Melrose District" may be used interchangeably by some with the "Fairfax District" which is a nearby area lacking strictly defined boundaries. However, the Melrose district, a sub-district of the Fairfax district or not, refers to the alternative shops, and restaurants lining Melrose Avenue chiefly between Fairfax Blvd, and Highland Avenue, but also as far as La Cienega Blvd. It also refers to its immediate adjacent residential areas.
Vine
Vine is a street that runs north-south from Melrose Avenue up past Hollywood Boulevard. The intersection of Hollywood and Vine was once a symbol of Hollywood itself; the famous intersection later fell into neglect and lost its status as a hub of Hollywood aside from in a historical sense, but renovations and a new up-scale hotel are in the works.
Doheny Drive
Doheny Drive is a major north/south thoroughfare for Beverly Hills and West Hollywood. It starts a few blocks south of Pico Boulevard and travels north past Sunset Boulevard. Doheny encounters few traffic lights, making it a relatively quick trip north/south. From Santa Monica Boulevard to Sunset Boulevard are condominiums, adjacent to the Sunset Strip. Doheny Drive forms the western end of the Strip, which ends at Crescent Heights Boulevard to the east.
page revision: 6, last edited: 29 Apr 2008 13:13